Complete All Access Pass
Price: $395.00
By purchasing Complete All Access Pass you save $3,257.52 versus the combined cost of the individual lessons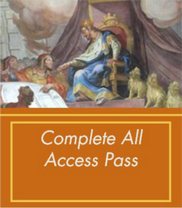 Product Description
Access our full library of resources for one account with our Complete All Access Pass.

Ideal for individuals looking to access all of our content and future content for a one time purchase. No additional billing ever!
The All-Access Pass also allows parishes to supplement their current religious education program with our content in the most cost-effective way. Access content to help with homilies, supplement your current textbook with our online resources or programs, project our lessons in a classroom or through a video lecture.
This all-access pass is for one single login to our entire library. The content in this all-access pass cannot be broken up and assigned out to various students. If you are looking for programs for multiple test-taking students, you would instead want to buy individual copies of the various programs that you need in the quantities that you need.
---
Complete All Access Pass contains the following Core Courses: