The Old Testament
Price: $29.95
By purchasing The Old Testament you save $53.91 versus the combined cost of the individual lessons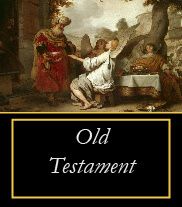 Product Description
In this series of lessons we will focus on the major events, persons, and books comprising the Old Testament. We will learn about Noah, Abraham, Saul, Solomon, Judges, Ruth, Esther, the prophets, and many others. Through this process, we will see how many things in the Old Testament prefigure the New Testament. We will examine various typology and some of the Church's Sacred Blessings and Prayers which mention the Old Testament. We will also consider the historical context in which many of the books of the Old Testament were written. Through all of this, you will read not only from the Catechism of the Catholic Church but also other sources including the Church Fathers, the Council of Trent, and the Baltimore Catechism.

All CatechismClass Lessons follow our time-tested 7 Step format: Introduction, Opening Prayers, Scripture and Commentary, Catechism Passages, Integration of the Lesson Topic, an activity, and a closing prayer. Quizzes end each of the lessons.
---
The Old Testament contains all of these lessons:
Other Courses similar to The Old Testament:
The Old Testament is part of the following Package(s):
Purchase this Course in a package with other Courses and save even more !