The Ten Commandments
Price: $29.95
By purchasing The Ten Commandments you save $29.95 versus the combined cost of the individual lessons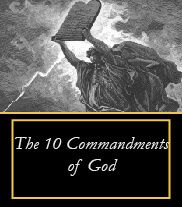 Product Description
In this course, we include one lesson on each of the Ten Commandments. Scripture, the Catechisms, and the writing of Canon Francis Ripley in "This is the Faith" comprise this course's reading material. Since the Ten Commandments represent God's law for all men, they are possible for all men to observe successfully. God would not make laws that are impossible to observe. Moreover, God always gives those graces necessary to observe the Commandments. Not only is it possible for all men to observe them; it is necessary and obligatory for them to do so. Therefore, everyone has the obligation to know them. In this course, we will learn the Ten Commandments in all of its detail.

All CatechismClass Lessons follow our time-tested 7 Step format: Introduction, Opening Prayers, Scripture and Commentary, Catechism Passages, Integration of the Lesson Topic, an activity, and a closing prayer. Quizzes end each of the lessons.
---
The Ten Commandments contains all of these lessons:
The Ten Commandments is part of the following Package(s):
Purchase this Course in a package with other Courses and save even more !