World History From A Catholic Perspective
Price: $29.95
By purchasing World History From A Catholic Perspective you save $29.95 versus the combined cost of the individual lessons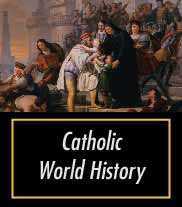 Product Description
Unlike virtually all other history courses which undermine or omit the contributions of the Catholic Church, World History from A Catholic Perspective seeks to teach the truths of world history which are intricately tied to the Church's own history.
This course does three things which most courses never do:
Mention the Church's contributions which are often ignored
Combat modern errors like evolution which are touted as "fact" in public school
Address the areas where the Church is falsely accused (e.g. Spanish inquisition, Conquest of the World, Crusades, etc).
This 10 part self-study course for high school students or adults is based on the following segments:
Introduction to World History and Developing A Catholic Worldview
In the Beginning: From Creation to Abraham
God's Chosen People: From Isaac to the Division of the Kingdom
The Struggle for Restoration: From the Division to the Roman Empire
The Incarnation & Redemption: From 27 BC to the Ascension
The Empire's "Small" Problem: From 33 AD to 400 AD
The Middle Ages: From 400 AD to 1500 AD
The Early Modern Period: From 1500 AD to the Mid 1700s AD
The Late Modern Period: From the Mid 1700s to Vatican I
Contemporary Period: From Vatican I to World War II
Drawing on the various catechisms of the Church, the Scriptures, the writings of numerous historians, the work of Fr. John Laux, and the writings of Fr. D.I. Lanslot, students of Catholic History from a World Perspective will be armed with a more holistic knowledge of history that does not fail to mention the greatest institution the world has ever known: The Catholic Church.
---
World History From A Catholic Perspective contains all of these lessons:
World History From A Catholic Perspective is part of the following Package(s):
Purchase this Course in a package with other Courses and save even more !