Confirmation Preparation Capstone Lesson for Adults
Price: $19.95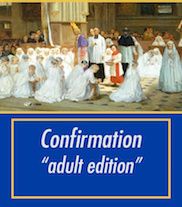 Product Description
The Confirmation Capstone Lesson was written by Fr. James Zatalava, the founder of CatechismClass.com to finalize the Confirmation Preparation Program. This lesson is intended for both adults and young adults.
In this course, you will learn:
What is the reason for the Sacrament of Confirmation?
How is Baptism (and other Sacraments) related to Confirmation?
What are some key facts that a Confirmed Catholic needs to know?
What are the Gifts and Fruits of the Holy Ghost?
What will be expected of me during the Confirmation Mass?
And much more!
For preparation exclusive to the Tridentine Latin Rite (1962), please see our
Traditional Confirmation Preparation Course.
And for those who have already been confirmed but would like to prepare to serve as a Confirmation sponsor, please see our
Confirmation Sponsor Preparation Class
Confirmation Preparation Capstone Lesson for Adults is part of the following course(s):
Other lessons similar to Confirmation Preparation Capstone Lesson for Adults: