11th Grade 2nd Semester Program
Price: $19.99
By purchasing 11th Grade 2nd Semester Program you save $7.94 versus the combined cost of the individual lessons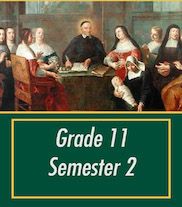 Product Description
Our 11th grade curriculum will prepare each young person to be a light for the world which is increasingly shrouded in the darkness of moral decay. These lessons follow the great mysteries of faith, from the creation of the world to the Ascension of Jesus into Heaven; yet these truths are reviewed in order to consider their importance for everyday life in a secular, diverse world. Moral issues are considered including gender differences, the sins of same sex marriage, abortion, contraception and sexual activity outside of marriage. The emphasis of these lessons is on countering the relativist philosophy which says there is no objective truth, only personal opinion. As Catholics we know that truth can be known and the Mystical Body of Christ is where we learn and receive strength. Activities in these lessons are designed to help students reflect, come together with other young people, pray and Go Forth.

All CatechismClass Lessons follow our time-tested 7 Step format: Introduction, Opening Prayers, Scripture and Commentary, Catechism Passages, Integration of the Lesson Topic, an activity, and a closing prayer. CatechismClass.com Programs never expires. Your purchase of this course will always be accessible in the future. And the program price also includes all online grading, quizzes, and activities at no additional cost.
---
11th Grade 2nd Semester Program contains all of these lessons:
Other Courses similar to 11th Grade 2nd Semester Program:
11th Grade 2nd Semester Program is part of the following Package(s):
Purchase this Course in a package with other Courses and save even more !