11th Grade 1st Semester Program
Price: $19.99
By purchasing 11th Grade 1st Semester Program you save $7.94 versus the combined cost of the individual lessons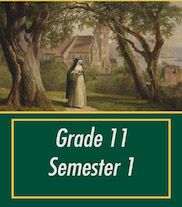 Product Description
The first semester of this 11th grade curriculum includes lessons on Biblical history up to the Transfiguration. The focus is on strengthening the students' understanding of our faith foundations so they are prepared to take up their roles as Knights and Ladies in the Kingdom of God. Each lesson is written to address modern moral issues, shedding light on the issues of gender differences, the secret to happiness, and the Church's role in the world. These lessons include the richness of St. Thomas Aquinas and the Catechism, as well as Scripture and references to literature. The activities presented are engaging and the prayers will lead students' into the wealth of resources we have available as Catholics to support our souls, during times of social and emotional turbulence.

All CatechismClass Lessons follow our time-tested 7 Step format: Introduction, Opening Prayers, Scripture and Commentary, Catechism Passages, Integration of the Lesson Topic, an activity, and a closing prayer. CatechismClass.com Programs never expires. Your purchase of this course will always be accessible in the future. And the program price also includes all online grading, quizzes, and activities at no additional cost.
---
11th Grade 1st Semester Program contains all of these lessons:
Other Courses similar to 11th Grade 1st Semester Program:
11th Grade 1st Semester Program is part of the following Package(s):
Purchase this Course in a package with other Courses and save even more !