Sponsor for Confirmation Preparation Program
Price: $19.95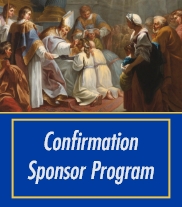 Product Description
If you are already a confirmed Catholic and you are preparing to serve as a confirmation sponsor, this course is for you.
Course Highlights
The Course will take only approximately 1 hour to complete.
The course will provide instruction on the Rite of Confirmation, what Confirmation is, as well as highlighting the role a Sponsor plays in the Sacrament.
CatechismClass.com is pleased to have the support of the hierarchy of the Catholic Church and offers its programs in full conformity with the Magisterium of the Church.
You Will Learn:
What is the reason for the Sacrament of Confirmation?
What is expected of me as a Sponsor?
What are some key facts that a Confirmed Catholic & a Sponsor needs to know?
How does the Confirmation Mass work? What will happen? What will I do at it?
How can I help the person I am sponsoring?
Those who complete the course may request a Certificate of Completion. Certificates are issued upon request within only 2 - 3 days after completing the course requirements. If needed, we can even offer same-day certificate preparation for a small additional charge. Each spouse will need to order individual copies of the course in order to be named on the certificate of completion.
This course on Confirmation Sponsor Preparation is only intended for those who are already confirmed. If you are not confirmed yet, you would instead need our Confirmation Preparation Course and associated catechism classes.
Sponsor for Confirmation Preparation Program is part of the following course(s):
Other lessons similar to Sponsor for Confirmation Preparation Program: