12th Grade 1st Semester Program
Price: $19.99
By purchasing 12th Grade 1st Semester Program you save $11.93 versus the combined cost of the individual lessons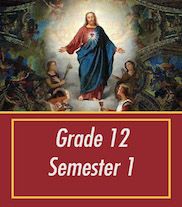 Product Description
While other young people are planning careers that will rake in the big bucks, we who are Catholic, are called to a different path. We are called to speak the truth, even when the world loves lies. We are called to follow Christ, even when the world will mock us for it. In these lessons, we look at the things which sustain us and give us joy on the journey. When we know our faith in a deep way, our backpacks are filled and we are ready. This will be a journey like no other! Jesus leads the way. Mary shines a light. Angels and saints crowd around us. Are you ready? In these lessons for the first semester, we will go more deeply into why we should love being Catholic. We will look at how to defend truth in the face of heresies. And we will focus on discerning the path ahead. While "career planning" may be about ego and money, "discernment" is about the fulfillment that comes when we follow God's plan for us!

All CatechismClass Lessons follow our time-tested 7 Step format: Introduction, Opening Prayers, Scripture and Commentary, Catechism Passages, Integration of the Lesson Topic, an activity, and a closing prayer. CatechismClass.com Programs never expires. Your purchase of this course will always be accessible in the future. And the program price also includes all online grading, quizzes, and activities at no additional cost.
---
12th Grade 1st Semester Program contains all of these lessons:
Other Courses similar to 12th Grade 1st Semester Program:
12th Grade 1st Semester Program is part of the following Package(s):
Purchase this Course in a package with other Courses and save even more !