The Holy Mass
Price: $29.95
By purchasing The Holy Mass you save $53.91 versus the combined cost of the individual lessons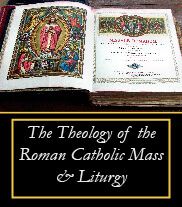 Product Description
Throughout this series of lessons we will examine the Theology of the Holy Sacrifice of the Mass. The Mass is the Re-Presentation of Jesus Christ on the Cross. The Mass is the Sacrifice of the New Law in which Christ, through the ministry of the priest, offers Himself to God in an unbloody manner under the appearances of bread and wine. It is most pleasing for us to attend Holy Mass. In this course we will thorough understand the holiness of the Mass and its Theology. We will also learn of the Theology of the Divine Liturgy of the Eastern Catholic Traditions, as well as the Theology of the Tridentine Latin Mass.

All CatechismClass Lessons follow our time-tested 7 Step format: Introduction, Opening Prayers, Scripture and Commentary, Catechism Passages, Integration of the Lesson Topic, an activity, and a closing prayer. Quizzes end each of the lessons.
---
The Holy Mass contains all of these lessons:
Other Courses similar to The Holy Mass:
The Holy Mass is part of the following Package(s):
Purchase this Course in a package with other Courses and save even more !