The Creed
Price: $29.95
By purchasing The Creed you save $53.91 versus the combined cost of the individual lessons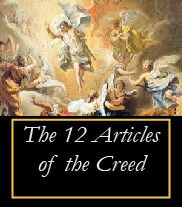 Product Description
What do Catholics believe? Why do Catholics believe it? We examine each of the 12 articles of the Creed as well as the Church's teaching on issues of great importance to modern Catholics. The Apostles' Creed is a series of twelve truths about God, the Trinity, and the Catholic Church that He founded. Using the Apostle's Creed as our guide, we will thoroughly understand the teachings of the Church that we, as Catholics, must believe.

All CatechismClass Lessons follow our time-tested 7 Step format: Introduction, Opening Prayers, Scripture and Commentary, Catechism Passages, Integration of the Lesson Topic, an activity, and a closing prayer. Quizzes end each of the lessons.
---
The Creed contains all of these lessons:
Other Courses similar to The Creed:
The Creed is part of the following Package(s):
Purchase this Course in a package with other Courses and save even more !