Godparents for a First Holy Communion Preparation Program
Price: $19.95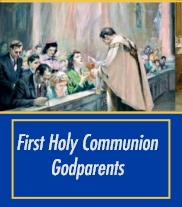 Product Description
The Godparents for a First Holy Communion Preparation Program is a short, convenient, online course that is meant to prepare godparents of a First Holy Communion for this honor and responsibility.
The Course will take only approximately 1 hour to complete.
In the course, you will review the Theology of the Most Holy Eucharist and understand the unique role you will play as a godparent (padrino) for this Sacrament.
Those who complete the course may request a Certificate of Completion. Certificates are issued upon request within only 2 - 3 days after completing the course requirements. If needed, we can even offer same-day certificate preparation for a small additional charge. Each spouse will need to order individual copies of the course in order to be named on the certificate of completion.
Godparents for a First Holy Communion Preparation Program is part of the following course(s):