Catechist Training Program
Price: $149.95
By purchasing Catechist Training Program you save $660.69 versus the combined cost of the individual lessons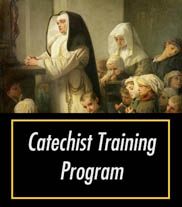 Product Description
How do you explain the Faith to today's young Catholics? There are plenty of online resources for Catholic educators but most consist of printable lesson plans that need adapting or superficial activities for children to do as busywork.
What Catholic educators most need are the resources and tools to fully understand the Catholic Faith and texts and guides to help transmit that to children. Why does God allow evil? Why does God send people to Hell? Why does everyone have to die? The list goes on.
Catholic educators need concrete explanations to these and hundreds other questions. You need to understand both what the Church teaches and why She teaches it. Children are not looking for guesses or for superficial answers. Teaching religion is a spiritual work of mercy that the Church blesses with indulgences but teaching error to children – even unintentionally – can lead to the direct loss of souls.
Study the fullness of the Catholic Church's teachings in order to serve as an informed catechist. Whether you are teaching children or adults, it is necessary to be firmly grounded in the Church's teachings. Our coursework incorporates the Catholic Church's official teachings on hundreds of topics with a basis in Scripture and Catechism passages. Lessons incorporate different catechisms, many different prayers and devotions, and activities that you may use in the classroom.
Dozens of hours of content which all available 24/7!
Certificates of Completion available for those who complete the program.
---
Catechist Training Program contains the following Core Courses:
Other Courses similar to Catechist Training Program: