Marriage Preparation Program
Price: $49.95
Each person needing to be named on the certificate of completion needs his/her own account. Materials can not be shared by more than one person.
By purchasing Marriage Preparation Program you save $19.90 versus the combined cost of the individual lessons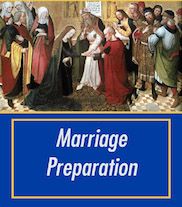 Product Description
The CatechismClass.com Marriage Preparation Program is a complete marriage preparation course.
Course Highlights:
Many other organizations offer online marriage classes that only consists of videos and worksheets, while costing over $100 more than our course. We believe marriage preparation should be convenient, include more than just videos, should focus on the true Catholic understanding of marriage, and be affordable for absolutely everyone.
Our course centers around a theological preparation for the Sacrament of Matrimony. Included in this course are appropriate lessons on the evils of artificial contraception, the proper use of natural family planning, and the Church's teaching on the absolute evil of abortion which married couples must live by.
The course draws upon the writings of the Popes, the Catechisms, the Scriptures and approved Catholic Commentary, and the book "Marriage in the Heart and Mind of the Church" by Preston E. Wiggins. Mr. Wiggins is an expert in marriage preparation, having coached couples for over a decade. It also includes modules written by Marie Gallagher, the legislative director for the Pennsylvania Pro-Life Federation.
This course includes both marriage and NFP preparation bundled in one low and affordable price.
It is recommended to spend approximately 4 to 5 hours studying the material before completing the course. It will consist of reading, videos, and activities.
Personalized mentoring and correspondence with Certified Catechists are also available. Our number one goal is to prepare our students and we are here to help you and mentor you every step of the way.
In this best-selling course, you will learn:
Why Marriage is a Sacrament and not a mere civil ceremony
What is the actual purpose of Marriage
Why Marriage is Indissoluble and a Lifelong Commitment "for better or for worse"
What are the three blessings of Marriage
What are the duties of Husbands and Wives to each other
What to expect as part of the Catholic Rite of Matrimony. A step-by-step walk-through.
What is the importance of a Catholic wedding.
What are the practical steps to Prepare for Life with a Spouse. A practical guide for couples on conflict resolution, career choices, and handling finances
How contraception is an attack on matrimony
What is Natural Family Planning and how it differs from Artificial Contraception
Why abortion is unthinkable for any Catholic and why contraception is related to abortion
Those who complete the course may request a Certificate of Completion for Marriage Preparation (Pre Cana and Natural Family Planning). Certificates are issued upon request within only 2 - 3 days after completing the course requirements. If needed, we can even offer same-day certificate preparation for a small additional charge. Each spouse will need to order individual copies of the course in order to be named on the certificate of completion.
---
Marriage Preparation Program contains the following Core Courses: