Parish License Adult Programs
Price: $995.00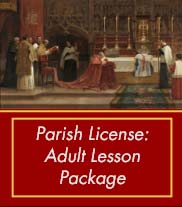 Product Description
The Parish License Agreement for Adult Programs allows parishes, schools, and other institutions the ability to sign up students for any adult faith formation materials with the exception of Parent / Godparent Baptism Preparation Classes. The License allows up to 200 adults to be registered for a 365 day period for an extremely low equivalent per-student price.
The Parish License Agreement differs from individual adult programs in a few respects:

1. Adult learners signed up with the License Agreement will have access to the lessons and tests for the one year period. After that period is up, they will lose access to the materials.

2. There is no per student cost.

3. Payment plans and payment via the mail options available upon request.


---